I've put together a collection of baseball jewelry, some handmade and some not, that baseball moms, softball moms, players, and even some dads will love. It's nice to have baseball jewelry with your favorite player's names or numbers added.
Baseball themed personalized bangle bracelet. Antique silver charms and a genuine Swarovski birthstone colored element.
This cute bracelet would be a perfect gift for a softball player to memorialize her special team, or a mom or grandma who loves her baseball kid. It comes with personalized initial and Swarovski birthstone charm. You can even add an additional charm for $2 more.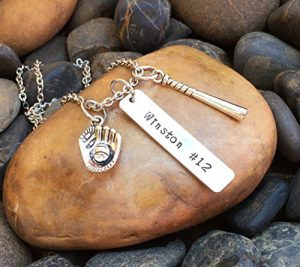 Baseball Necklace | Baseball Jewelry | Baseball Mom Jewelry | Sports Mom Necklace | Baseball Jewelry | Baseball Gift | Baseball Player
Same idea as above, but on a necklace. Comes with an aluminum rectangle charm stamped with name and number of your choice. Also includes two silver alloy baseball charms of your choice.
Proud Baseball Mom / Softball mom Bracelet – Womens paracord Bracelet, Softball player, Charm Bracelet.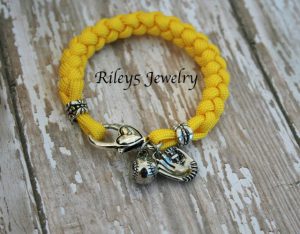 Another paracord bracelet that comes in several colors with a baseball charm and baseball glove charm.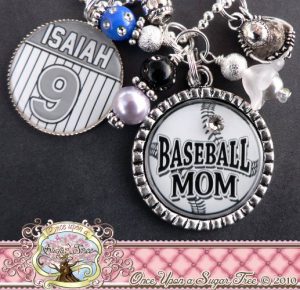 Baseball Mom Jewelry, Personalized Name and Number Sports Necklace, Grey, Black
This custom baseball necklace can be personalized with a name and number on one charm, and the other charm can have another name or other words on it. Comes adorned with a ball/glove charm and cute colored beads.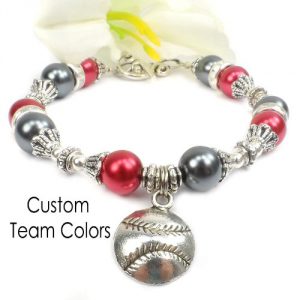 Baseball Fan Bracelet, Custom Team Colors Jewelry
This bracelet is great if you just want to have custom team colors. It would be a great gift for a team of softball girls or team moms.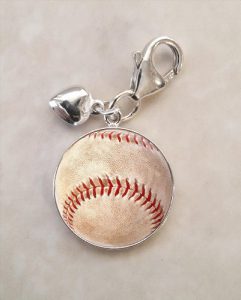 Baseball .925 Sterling Silver Charm
A perfect charm to add on to an existing charm bracelet or necklace. And, it's sterling silver.
Personalize your Baseball Necklace
This baseball necklace is made from a hand-cut coin and can include your number. Very cool and creative idea!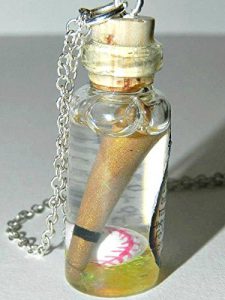 Baseball Necklace, Bottle Necklace, Handmade
This might be my favorite of all of the handmade baseball jewelry. It's an adorable little sealed bottle containing a hand sculpted baseball bat and a miniature baseball which is highly detailed with it's red stitching. Also added are some cute yellow iridescent stars for a bit of sparkle too. On the outside on a piece of burnt paper are part of the lyrics to the classic song which reads: "Take me out to the ball game…"  Also available in earrings. Super cute!
Sterling Silver Softball Baseball Ring
Handmade to order and polished to a shine.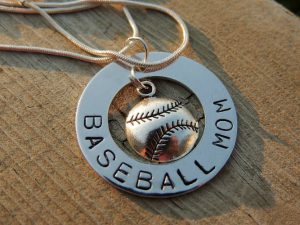 Hand Stamped Baseball Mom Pendant
Show off your support for your favorite baseball player or team. This can be personalized with up to 20 letters and spaces. Add your players jersey number or team name.
Baseball Sweet Stack hand stamped and personalized necklace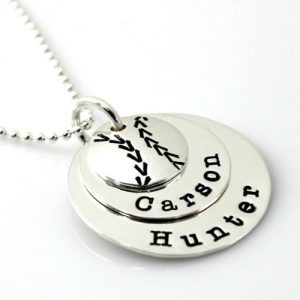 I love this because I have two boys who are ballers and I can put both of their names on it.
I know it's cliche, but what do you give the guy who has everything? Baseball cufflinks! These cufflinks are hand stamped and can include a name or other text.
Girls Softball Catcher Necklace
How often do you see a softball catcher gift? This is an awesome gift for that special softballer who wants to memorialize her playing career. Custom cut and you can add jersey number or initials. Also available is a girl fastpitch and a girl batter.
Share This: