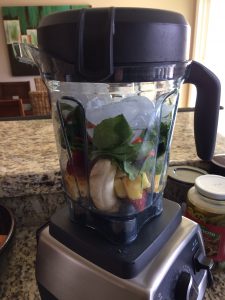 Parents of sports playing kids know how busy their lives can get and how hard it can be to get healthy food into their children. With late practices, homework, and car rides, sometimes driving through or just throwing together some Chicken Dinos with mac 'n cheese has to suffice.
I have one really good suggestion for how to get kids to eat healthy food.
Make them smoothies.
I've been making smoothies for our family for the last couple of years and it's amazing how good they taste even when they are filled with vegetables. As long as you have some fruit added or some sweetener like Stevia or some blue agave, your smoothies will taste like delicious desserts. We try to do them after school so they have a great, nutritious snack before practices and games.
Today I made the red smoothie pictured here which had the following items added: banana, blueberries, strawberries, beets, carrots, orange, pineapple, kale, spinach, chard, and ice. It's absolutely delicious. I didn't add any sweetener and it tastes as good as the ones from Jamba Juice. Costco is a great place so buy the supplies for these because the fruit is so affordable and now they even have a kale, spinach, and chard mix pre-cut, so you can just grab a handful and throw it in. Beets tend to turn anything you mix together red.  It's actually a beautiful drink!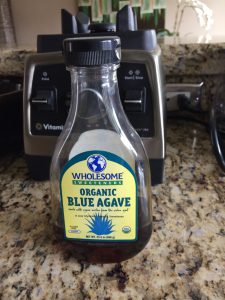 Another great combination of fruit and veggies is kale, spinach, chard, pineapple, lime, and ginger. This one is not as sweet so you could add a tiny bit of sweetener. The combination of the ginger and lime is wonderful.
My kids absolutely love these smoothies and they even ask for them. I would highly recommend getting a Vitamix blender. They are a bit expensive but if you are going to be using it everyday like I do, you will want to have one that not only lasts, but chops the vegetables up to such a fine pulp that you don't notice them. My Vitamix blends our smoothies to the same consistency that they get at Jamba Juice and other smoothie places.
We have the Pro Series and I would never go back to a cheaper blender. This blender is even self-cleaning. You just fill it half way up with warm water, ad a drop of dish soap, run it for a minute, and rinse. The ease of cleaning it alone makes it worth the investment.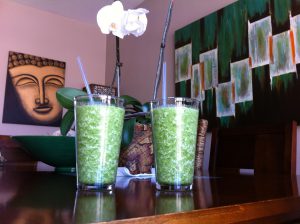 There are literally hundreds of food combinations to make smoothies, and recipes all over the internet. And, the Vitamix even makes ice cream and soup. I never worry anymore whether my kids are getting healthy foods because they drink them every day.
Share This: