My name is Dave Sheffield. I started Buffalo BottleCraft back in 2013 as a side-business while I was working full time as a mechanical engineer. That same year I quit my job to work on the business full time and haven't looked back since. At the time I was making drinking glasses from used wine, beer, and liquor bottles but soon made the pivot to the bottle openers you see on the site today. It started with the PuckOpener in 2014 and expanded with the BeerWedge and BaesballOpener in 2015.
Design your own opener using our online customization app!

Kathleen Akers
 on Jun 11, 2018

So cool, couldn't wait for Fathers Day to give it to him. He loves it!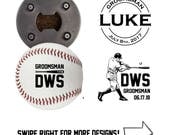 Super fast shipping! Thank you! Magnets seem pretty strong too. Nice item!   

Linda Munoz
 on Jun 11, 2018

Share This: