Baseball Trading Pins: The Ultimate Guide [2018]
Many of you want to make the perfect baseball trading pin. This guide will help give you pointers on how to choose the right style, size, and color to make the baseball trading pin you have been dreaming about.  Before we go into how to design your own baseball trading pin, let's look at how trading pins became a popular hobby. 
The Origin of Pin Trading
You have probably heard some of the stories about the way trading pins came about.
It all started in the 19th century in Athens, Greece during the first Olympic games. Judges, athletes, and others who worked at the Olympics wore colorful cardboard buttons to represent who they were.  
Someone invented metal badges to display at the 1904 St. Louis games. In 1908, reporters and members of the International Olympic Committee (IOC) wore metal badges. However, the trend of mass pin trading still hadn't become a reality at this time.
For starters, fans couldn't trade pins during the early 1900's because only participants in the Olympics were able to trade among themselves. It wasn't until 1912 (at the Stockholm Olympic Games) that fans were able to buy pins for fundraising efforts. But the popularity of trading metal badges didn't become more widespread until the Olympics went to Paris in 1924.
At the 1924 Olympic Games, athletes had a chance to network on a larger scale than ever. Every country represented at the 1924 games had its own badge. Because fans began demanding badges as collector's items, the Olympic organizers decided to restrict the number of pins made to make them a unique market.
By 1948, badge trading and collecting was a trending hobby.  As the competition at the Olympics expanded, more participants in the competition (including fans) wanted to collect badges. The demand for trading badges was so great that fans began holding pin trading events. Collecting badges became a popular pastime for the Olympics and continued in popularity until the 1952 Helsinki games. After that, Olympic pins soon replaced the popularity of collecting metal badges.
When it comes to baseball trading pins, it all started in the 1920s. In Rochester, New York, there was a bakery that started selling pinback buttons that had local baseball players on them. The buttons came in a pack of four, and people could either collect them or trade them.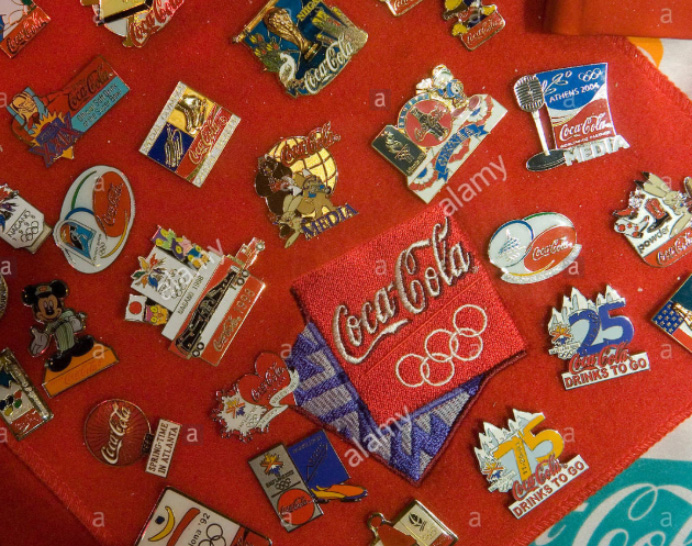 In 1988, Coca-Cola joined the excitement of Olympic pin trading by setting up their own trading center for the 1988 Olympic Winter Games (in Calgary). This move made Coca-Cola one of the first major companies to invest in pin trading.  The success of their trading center led to collectors coming to the Olympic Games just to participate in the trading event.   
Coca-Cola's trading event has become a favorite event at the Olympic Games.  
Now, you can find several thousand designs out there and millions of people willing to collect them at the Olympic Games. Reporters have now joined in on the fun at the Olympic games and trade with other reporters. You will often see their pins on the straps of their press passes. 
It seems you could always find pins to buy at most Disneyland parks. But the ability to trade them didn't start until the 1999 Millennium Celebration happened at the Walt Disney World Resort in Florida. The following year, Anaheim, California followed suit and started trading pins at the Disneyland Resort.  Now, Disney pin trading has become a popular event at other Disney venues like Aulani, Disneyland Paris, Tokyo Disney Resort, Hong Kong Disneyland Resort and Disney Cruise Lines.
Disney was the first company in history that was not affiliated with sports but was engaged in pin trading. Now, every branch of Disney has its own trading tradition since the company has had much success with pin trading.
You can find all kinds of pins to sell and trade at the Disney resorts. Most of the main characters that walk around the parks have their own pins (at least 12) on display either on a display card or on a green (at Walt Disney World) or teal (at Disneyland) lanyard around their neck or hips. You may see some other employees displaying their pins and actively pin trading if they have the time to do so with their other duties.
However, you won't see ride operators engaging in pin trading because that would be a distraction from their work duties. Children ages 3 to 12 can participate in pin trading at the Disney resorts.
If a cast member is offered a pin for trading, they will trade pins. Cast members cannot turn down a trade just because they personally don't prefer the pin. But, they do have to uphold the pin trading rules in place when it comes to acceptable pins. Also, children can only trade two pins with the same character per day.  
The Tradition of the Sports Trading Pins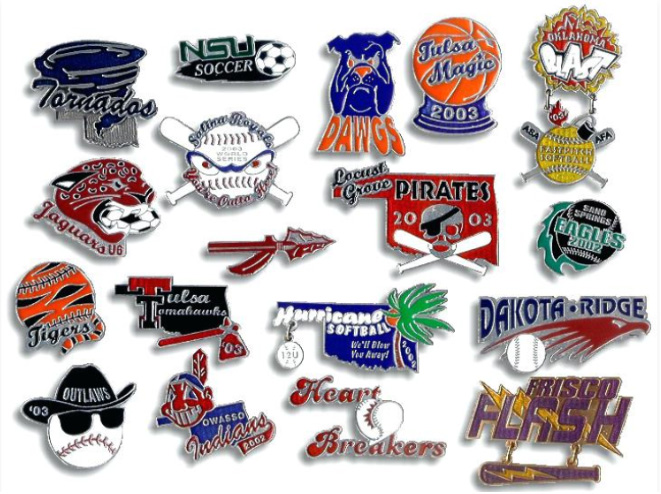 People involved in sports and academic competitions have enjoyed the art of pin trading for many years. Some pins have become very valuable because they have been around for a long time. Others have gained value because they are very hard to find since there aren't many of them in existence. Many collectors have gained popularity with other pin trading fans for having valuable pins in their collection.
Trading sports pins have become popular because of the camaraderie it brings. It doesn't matter if you are a player or one of the fans because everyone loves the friendships created from trading pins. Some people have created their own team of pinheads they trade with all the time. That way, members of the trading teams can keep their collections unique and current.
Baseball, like all other sports, is not only about building camaraderie, establishing teamwork and networking with the community, but it's also about creating lasting memories. For those designing trading pins, it's important to have a knack for creating awesome designs. Your design is one of the top reasons why a given pin tends to stand out from the rest for a long time.
The following information will help you learn how to create the baseball pin many pinheads will cherish for a long time to come.
To get a general idea of what type of design you want to do, you need to spend some time deciding on the purpose of why you want to design a trading pin. Start by asking yourself the following questions:
Am I designing these pins for a little league team or for a baseball tournament?
Are the pins I'm designing going to be traded mostly by the players?
Am I designing these pins to become collectibles?
Thinking about the purpose of the pins will help you decide on the type of look you want for your pins.
Also, think about the reaction you want to achieve from pinheads when they get this pin. The response a pin gets is often why people collect the pins to begin with. So, when you are designing your pin, think about the lasting impression you want your pin to have on those it encounters.
Begin making some drawings to see what designs you can create. Then look at your design and decide if your design needs to have a special logo or symbol. Also, you may want to ask yourself, "Will people get excited if they see a design like this?"
Draw Inspiration from Other Pins
There is a good reason to look at other pins while trying to create your own. For starters, if you are trying to create a collectible baseball pin, then you will want a design that you know will be considered unique. Also, looking at other pins may inspire you to come up with more ideas for your own design. Just think about all the types of pins out there.
When you start examining the shape and design of other pins, you will make a better decision about what you would like to see (or not see) in your own design. The knowledge you gain from studying the design of other pins can be applied to your design
What to Include in Your Baseball Trading Pin Design
There are some basic design elements to keep in mind when designing your own baseball trading pin. Therefore, you may want to consider how the text, logos, color and symbols will affect the overall impression of the pin.  
There are common symbols found in baseball that all fans know about.  The baseball, baseball glove, baseball diamond and home plate are all classic symbols of baseball. 
However, if you are trying to create a unique design, you may want to try something other than the traditional symbols. For example, to stand out, try designing a pin in the shape of the baseball team's state. That idea may prove to be a catchy idea for those in cross-country tournaments. You can also try your hand at designing a pin with the team's logo. A pin with the team's log is sure to get more attention among fans.  
Colors tend to have psychological meanings. Because of this, you may need to think about the psychological effect of a color before using the team's color on your pin.  You want to use a color that produces the emotional effect you want even if it's not the team's color. 
The words you use on the pin should be simple and easy to read. Fonts with extra swirls and lines may be hard to read. So, keep your font simple. Also, consider having the team numbers, team name or players' first names on the pins.  
Give Your Trading Pin Design Some Flare
Add some bling to your trading pin design by including extra features. Glitter, sparkles and crystals are just a few examples of extra features you can include on your trading pins to make them a raving success. 
Excess information on a pin takes away from the impact of the design. Try to keep your design simple, so people can quickly figure out what your pin is about.  If people can't make out what your pin is representing, they most likely won't want to get it.  
Therefore, make it a habit to keep your design simple so people can get a good first impression off your design.  That way, they will have a good idea of what your pin is about, and they will be able to feel the impact of your design.  
It is recommended you try a design that has the team's name, location and logo. Another simple design is one that has the tournament year, tournament name, tournament location and an extra feature (like glitter, beads or crystals).
Test Your Trading Pin Design
You can use trading pin design software or sketch a few ideas of your pin design.  
Show your design drafts to other people for their input.  Ask a few coaches, parents and players, and parents for their thoughts. Feedback from a few people is all you need to help you decide on how successful you think your design will be. So, don't be offended by their feedback because it's rare to come up with an awesome design the first time around.  
Instead, use the feedback to revise your design. You can take this second draft and get more feedback to see if you are going in the right direction. Or, if you are satisfied with your second draft, then no additional feedback is needed. You can now start your design. 
And Vivipins offers free design service, so you can also send your idea to the manufacturer to have them create a sample image so you can see what your design will look like.  
Once the design is agreed upon, you can now move on to choosing the material for your pin. Today's trading pins come in two main design materials:  
If you are looking for a material that allows you a lot of flexibility, try the soft enamel. It's great for designs that have a lot of colors because it prevents them from bleeding together. Also, you can use different metals for your pins (like brass or silver).   
Offset printing is great for designs that do not require colors to be separated by metal lines. It also works well for designs with a lot of details on them.
Baseball Trading Pins That Stand Out
Parents, players and collectors from all walks of life love collecting baseball trading pins. If you brainstorm to decide what purpose you want for your pin and follow these other guidelines, you will find out that designing your pin is not so hard after all. 
Baseball Trading Pins Manufacturers and Designers
If you want to customize your own trading pins, finding the right supplier is important, nad will save you tons of time and money.  
Traditional suppliers such as Pinzonepins and Crownawards would be good choices, but I prefer to work with Vivipins, which offers free design service, an easy online ordering process, and real reviews from a third party review company.
Share This: