Baseball fans will love these great ideas for ways to incorporate baseball into a birthday party, team party, baby shower, or other party. When I was looking for these ideas, I made sure to find things that are easy to do, inexpensive, and that you could make yourself.
Baseball Diamond Party Tray
How easy is this? All you need is a large tray, preferably rounded at one side, but you could use a square tray as well. Just cut up your choices of fruit, veggies, meats, cheeses, crackers, cookies, or nuts and use small round dishes for the bases. Arrange everything in the shape of a baseball diamond. Super cute.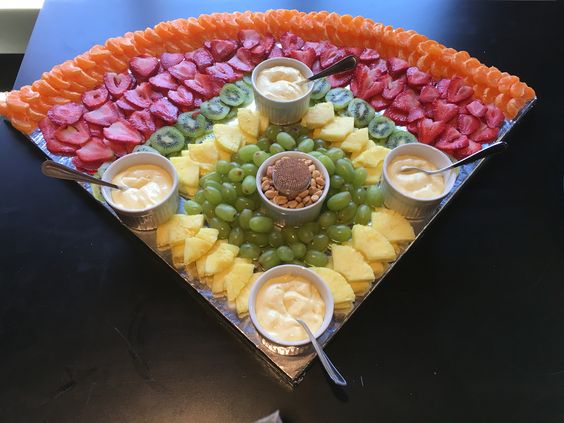 Ball Jar Utensil Holders
This one takes a little more planning and time, but still a very easy thing to do. Just paint some Ball jars white, and then use a red marker to draw on the baseball threads. Then tie some cord around the top and you have these baseball themed jars for utensils and napkins. You can even get colored utensils and napkins to match your team theme.
Concession Menu
You can order the digital file to print this out with this link, or you could make one yourself. Word has some great fonts and you can add some clip art of baseballs to your design. Just print it out and you have a cute menu to add to your baseball theme party decorations.

Baseball Glove Cupcake Arrangement
Make chocolate cupcakes with chocolate frosting and use a frosting tip to make the swirls on top, then arrange them in the shape of a baseball glove. Use a plain white cookie for a baseball and put on some red icing for the threads. I think you could even do this by spreading the chocolate frosting on with a knife and it would still look cute.
Cracker Jacks Party Favors
There are some awesome baseball party favors ideas, but this one is one of my favorites. Just print out some tags with the guest's names on them on a baseball background, and tie them onto boxes of Cracker Jacks. You could also use a clear plastic craft bags and fill them with Big League Chew, microwave popcorn, sunflower seeds, candy, or other treats, and use the labels on the ties. With all of the other things you have to do to pay for and plan a party, it's nice to have some cheap easy birthday party ideas that won't break the bank.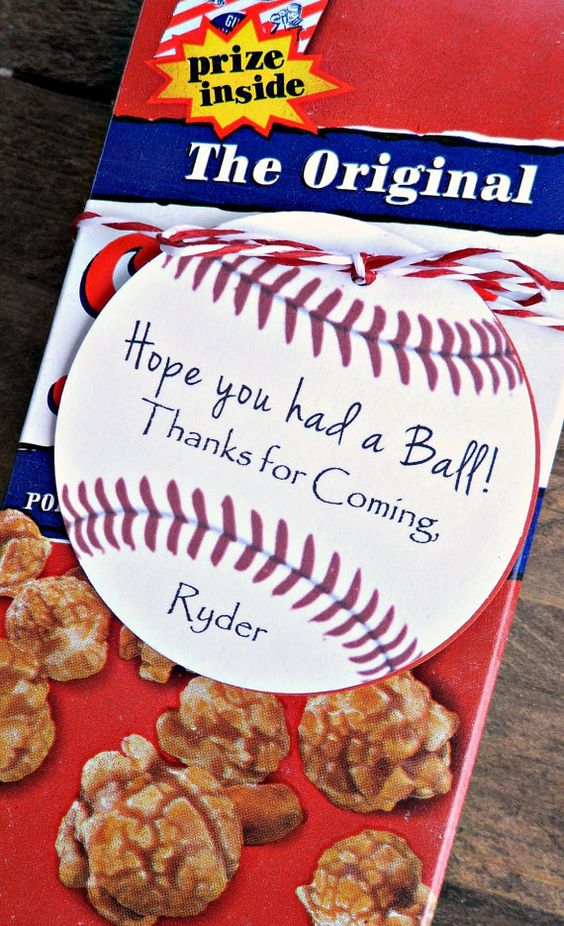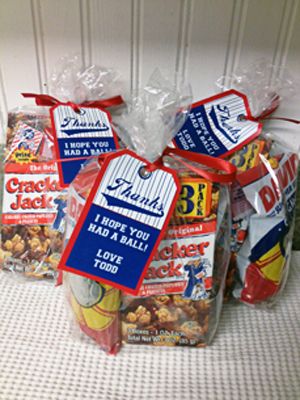 Baseball Themed Table Centerpiece
A baseball themed centerpiece is another fantastic and super easy way to infuse baseball into your party decor and can be done quickly and very inexpensively. All you need is some tall vases and baseballs, Cracker Jacks, peanuts, snack-size candy, or gumballs in the colors of your theme, and you're done. This photo even shows that they threw in a small wooden bat. These look so cool!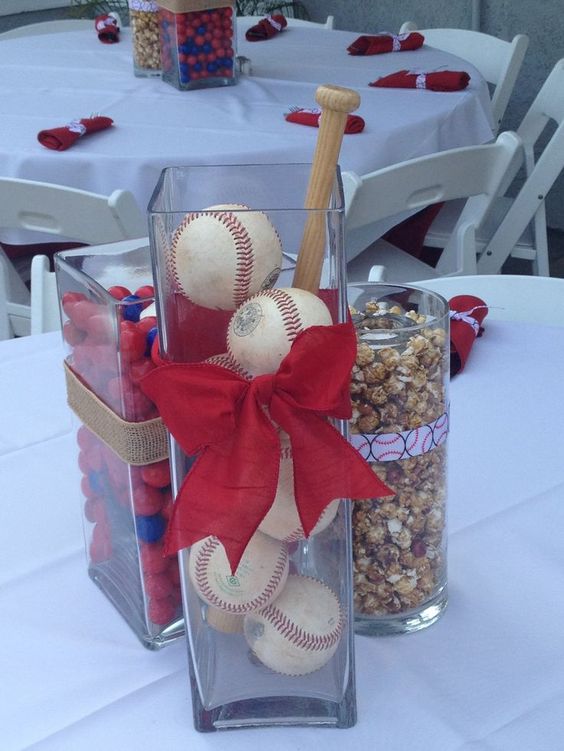 Baseball Cupcakes
I'm not that into baking, but I'm quite sure I could easily make these cupcakes. All you need is cupcakes, vanilla frosting, and red icing in a can, and Voila! You have baseballs.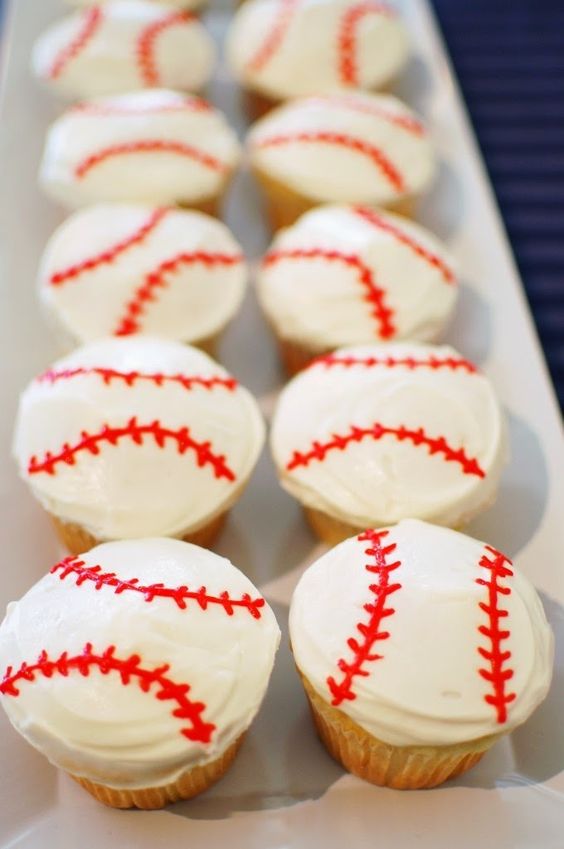 Baseball Themed Birthday Party Invitations
This is my favorite of all of these baseball party ideas. M. Gulin has a website where he offers a free pdf download of these professional looking baseball game ticket invites that you can edit, print, and cut out. I absolutely love these!
Concession Stand for Chips
If you want to put out some snacks, this is a creative way to display them that looks like a small concession stand. Make a cardboard stand out of a large box or plywood and run some strings across it. use wooden clothes pins to hang small bags of chips on the strings. If you want to get really fancy, you could paint the clothespins as shown in the photo below.
Autograph Station for a Signed Baseball
Make a sign asking guests to sign a baseball for the person of honor and put out some markers to sign with. You can place the items on a flag or other cloth or fabric to make the display look nice. If you don't feel like making the sign, you can order this exact customized print here.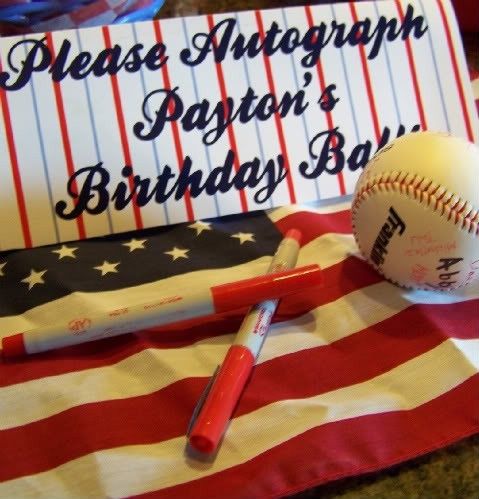 I'm constantly looking for new and creative baseball ideas so I will be posting more as I find them. Please feel free to share any ideas you may have.
Share This: