Being a good baseball mom isn't about pushing your kid to be the best, most competitive player. A lot of moms think they have to be tough on their kids so the kids become tougher, but I can tell you from all the kids I've talked to including my own, they just want you to be a "mom".
I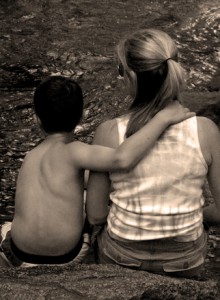 f they have a bad game and make a lot of mistakes, they want you to be the one who hugs them and tells them they gave a great effort. They probably don't even really want to talk about it. Maybe they already got some criticism from the coaches, the other players, Dad, or the other parents who sometimes make groans and noises when kids make mistakes. They don't want to hear it from you so just bite your tongue, Mom.
They don't want to hear you go over every play of the game they were involved in, and how they should have kept their glove down or should have swung at that third strike. They already know that. Maybe you could even change the subject (and I don't mean start talking about their school work!) They feel bad enough already. Just tell them that everyone has a bad game and give them hugs. Maybe even go get some ice cream.
A player's mom needs to be their "go-to" for love and nurturing. That's what they really want from their baseball mom. The good thing is that most kids tend to forget about the game fairly quickly and are able to move on to something new. Be there to smile and take on the rest of the day with them with all of your love.
Share This: