My favorite ice chests and coolers for sports parents
One of the top items that baseball and softball parents need for games and tournaments are ice chests or coolers. Below I have chosen a few that I really like and have listed the features, and also checked out the reviews for them. As sports parents, we have different needs for coolers…sometimes we want a big one for those all-day events in which we need a lot of drinks and snacks. Other days, we may have just one game or are sending our child with a cooler for their game and a small one will do the trick. These are the ice chests I like.
I have this ice chest and it has lasted me for about eight years. My favorite feature on this cooler is the long handle. I'm tall, so being able to roll it behind me without bending down is a must. The handle retracts for easy storage. The side handles make it very easy to lift into my van, and the wheels are super rugged allowing it to be rolled over multiple surfaces. I've rolled this thing out onto beach sand many time. It's also not so huge that I can't lift it by myself, which is a huge plus. It holds 130 cans plus ice. The cup holders on top are a nice little bonus and we do use them. Overall a great ice chest.
Tip: spray some WD40 into the telescoping handle occasionally to keep it operating smoothly. Mine still works great.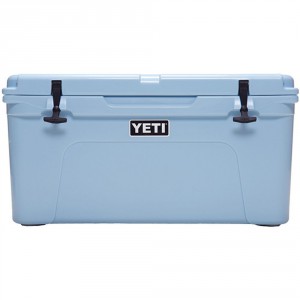 YETI Tundra Series Coolers
If you are looking for a cooler to last you a lifetime and you can afford it, consider getting one of these Yeti Tundra coolers. They get fantastic, mostly five-star reviews and are built to withstand a beating. People describe it as indestructible (like a tank and bear-proof). You may have had coolers on which the latches or handles get broken after a while, and with this cooler you don't have to worry about that. It also keeps ice for three to four days. It's perfect not only for baseball games, but for camping, boating, tailgaiting, etc.
For another super-rugged ice chest, check out this Pelican ProGear. Pelican boasts that this cooler can keep ice for up to 10 days. It has wide handles and the latches are easy to open, even with gloves. This is a very manly cooler, but I love it! It gets fantastic reviews and is another cooler that will last forever. Like the Yeti, the Pelican coolers are available in several sizes and are rated as two of the best cooler brands you can buy.
Igloo Maxcold Ultra Roller Cooler
This is a really nice medium-sized cooler that is very well-built and gets overall good reviews. The size is nice for those who hate lifting super-heavy coolers into your car. The handle is well-constructed and having wheels is a must for a lot of sporting events. This one is a 40-quart, but it's also available in two larger sizes. It has an easy-to-clean, stain and odor resistant liner. Nice little cooler for the price.
And now for the giant, 150-quart cooler that will hold everything you could ever need. This cooler boasts a 7-day cold time at 90 degrees. The handles are reinforced to last and have a tie down loop feature. The top has a quick-access hatch for accessing items so you don't let the cold air out, and the drain plug is threaded so you can add a hose. For a heavy cooler, this is a must so you don't have to lift it to drain it. This is a great cooler because bigger is better, right?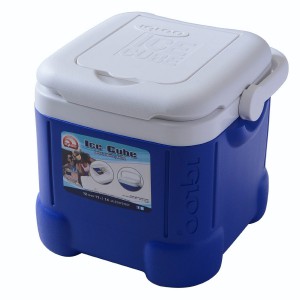 Igloo Ice Cube Cooler (14-Can Capacity, Ocean Blue)
Just when I said, "Bigger is better", I'm putting a small cooler here. Well, sometimes you need something just to hold stuff for one or two people and why carry a giant ice chest if you don't have to? This cooler gets great reviews. It's nice and compact, has a compartment in the top for storing small items, and the curved back rests comfortably against your body or leg when you're carrying it. One reviewer mentioned that a decent sized salad bowl will fit into it because of it's square size, so it would be great for carrying tupperware with fruit or other snacks. I think this is a great cooler to send your kid with to practices because of the variety of sizes of items you can put in it.
Thanks for stopping by my page and please feel free to leave any comments or suggestions you may have.
Share This: