If you want your child to be a great hitter, he or she needs to practice. These portable baseball hitting nets can literally be used anywhere to make your own home batting cage for soft toss and tee work, and are a must for any baseball or softball parent, or travel team. All of these nets fit into a convenient carry bag and require no tools to set them up. Here are a few different models and some accessories to go with them.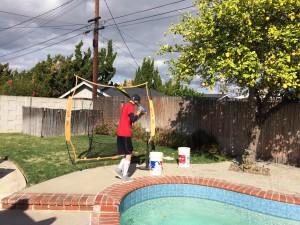 This is my son practicing on a tee in the back yard using our baseball batting practice net. We have a small back yard and we don't have to worry about broken windows with this net. He can also work by himself or I can soft toss to him. It sure makes it very convenient.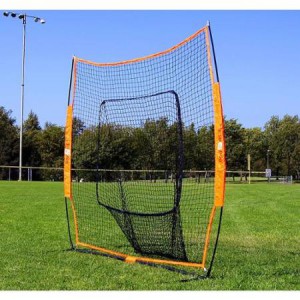 Bow Net is the most popular brand of practice nets and it's the one we personally own. You can't go wrong with this one. It sets up in minutes and is extremely durable. Ours has been set up in the backyard for months through rain, wind, and sun and it's no worse for the wear. It also comes with a sturdy carrying case. Our team brings one to every tournament.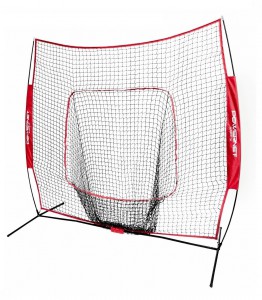 If you want to save some money and you aren't brand conscious, this net is a great option and it gets fantastic reviews. Comes with a lifetime warranty and it's also super-easy to set up. Comes with a convenient carry bag. Any of these can of course can also be used as a softball batting net.

Pretty much the same net as the PowerNet, just a different brand. They both get awesome reviews and you can't go wrong with a lifetime warranty.
This Easton model is a little smaller at 5′ and is an ideal option for younger players. Also, super durable and gets great reviews. Available at Walmart.com.
You're going to need some balls for all that hitting into the net your player is going to be doing so this bucket of balls will do the trick. It also has a cushioned top and doubles as a seat for doing soft toss. Available at Walmart.com.
This is a nice little tool to have if you're like me and you don't want to be bending down grabbing balls constantly. This can be used for soft toss exercises and is also great for on-the-field pitching and batting practice.  Great for using with backyard batting cage nets, this will really save your back.
Tee work is very important and recommended by pretty much anyone who knows baseball. Your child is going to need this for when they want to practice and you're not there to toss it. I really like this tee because it's super heavy-duty and it has the slider type of adjustable neck on it, and I've just found that this type holds up better and lasts longer. It gets really good reviews and comes with free shipping. It's a perfect compliment to a practice net.
For information and ideas for setting up a home made batting cage, please visit my page: Building a Home Batting Cage