I feel very fortunate to have been self-employed for the last several years, and that has allowed me to set my own schedule and have time to work out at the gym during the day. Many moms aren't that lucky, so you may ask yourself, "How do I get in good shape when I'm so busy?" I know for sure that this is a question that most moms want an answer to, especially moms with super active kids.
No one will say that it's easy, but there are some things you can do and I have some ideas for exercises for busy moms, and some things that I do to keep myself energetic and maintaining a healthy weight.
What to eat
First and foremost is my diet. We all know that it's almost impossible to eat healthy every day, especially when your kids have practice or lessons, or you're just running them around doing errands. There is so much temptation to drive through and get quick meals during the week and no one can blame us. So, I really want to challenge you moms out there to make an effort to say no to fast food, at least for yourself, and start juicing. I have been juicing for about three years now and I never have to worry about getting my servings of fruits and vegetables because they are in my morning or afternoon drinks. And parents….you HAVE to get a Vitamix blender.
This blender is really all that they say it is and more. I've tried other blenders, but they don't chop the pulp enough to make a lot of vegetables palatable, so you just don't enjoy the drinks that much and stop doing it. The Vitamix will grind all of those particles down to a beautiful liquid with very little pulp, and nothing to gag on when you're trying to swallow that kale. It's a little pricey, but it will last forever and you will use it daily. No one I know who has bought one has said they regret it. They all love it.
There are SO many fruit and vegetable combinations you can make, but my absolute favorite is this mix:
Kale
Swiss chard
Spinach
Pineapple
Lime
Ginger
Ice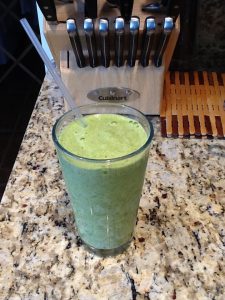 This juice is so tasty that you won't even notice that you're drinking all these vegetables, and the healthy factor is off the charts.  If you search around online, you can find hundreds of combinations of fruits, vegetables, seeds, and other items you can put in your juices. Even my kids love these fruit and veggie smoothies. You can't go wrong with this!
You HAVE to Exercise
I know no one likes to hear this, but it's a fact that you must exercise to stay in shape. But, it doesn't mean you have to join an expensive gym and spend hours each day pumping iron. There are a lot of other things you can do to burn calories and build up some muscle.
First off, walk or run while your child is at baseball practice, ballet, or whatever activity they are doing. No one requires you to watch their every move, and watching them ends up becoming an excuse not to exercise. Bring your earbuds and do a couple laps around the block or the field to the music. The time will fly and you'll feel great.
Secondly, get a couple of hand weights to keep in a bag in your trunk. That way when you're waiting for pitching lessons to get done, you can do some arm exercises, back exercises, twists, and other exercises you won't have time to do otherwise. Stand up on your toes and hold to work out those calves.
Third, did you know you can work out while sitting in your car? Those butt-squeeze exercises can be done anywhere. And, you can suck your tummy in for sets of 15 seconds and do 20 of them. When you're stopped at a light, tilt your right ear down towards your right shoulder and hold it. Repeat on the left. This stretching can release a lot of tension. Also, roll your window down and stretch your arms straight out left palm up and right palm down. Now, start turning your palms from up to down. Count up to 50 times. It will seem easy at first, but you'll start feeling the tension and your arms will become more toned if you do this often. Next, try sitting up very straight and turn your back to each side while you exhale. All of these things will help you to relax and also to gain strength.
Join a gym if you can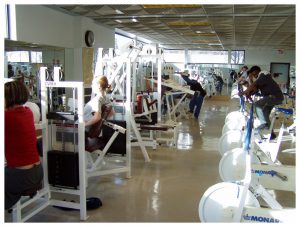 If you have the time, I highly recommend joining a gym. I go to a gym called "Crunch" and it's only $9.99 a month so it's not breaking the bank. I thought I was going to hate it, but I actually look forward to going now. The thing about the gym is that is forces you to exercise. For me, I can't stand the thought of paying for it and not using it so I have that extra incentive. And once I'm there, I always get really into my workout. Everything you need is right there and it's not intimidating at all. I start by doing at least 20 minutes of cardio either on the stationary bike or the treadmill, and then I either do arms and core, or legs and core. Core you can do every day and I think it's the most important part of weight training because it strengthens your stomach muscles which strengthens your back. And back health is crucial when you're a busy mom.
Bring your bike
If you have a bike rack, start using it! Take your bike along when you drop off the kids for their activities and ride for an hour. Nothing brings back that feeling of being a kid like getting on my bike and riding. Since I've starting riding a bike, both outside and the stationary bike at the gym, my knees are stronger than ever. I used to have aches and pains in my knees, but I never notice it now. Riding around with the wind in your hair and enjoying the outdoors can also be super fun.
Play with your kids
Playing with your kids has two benefits. Not only does it get you in shape, but the time you spend bonding with your kids is invaluable. I know it's something that dads usually do, but why can't Mom get out there and throw with the kids?
Yep, that's me throwing a ball when we were at a beach house vacation. Any opportunity to be out with the kids is precious, and those memories are some of the best. You don't even have to be the best athlete. My arms are definitely more in shape and stronger because I play catch with them and run around shagging balls at practice.
When you take them to the beach or the park, bring a Frisbee or a paddle ball game. You'll end up having a lot of fun and burning calories while you're at it. And your kids will love you for it!
Share This: