If you're a team parent or helping out in choosing youth custom baseball uniforms for your team, there are several different styles and options you can go with. Different players also have their own preferences for what types of jerseys, pants, hats, socks, stirrups, cleats, and batting gloves that they like to wear.
Many teams will allow players to pick their preferred style of pants: either long or knickers-style, and then other teams will want all of the players to have exactly matching uniforms. This is something you will have to decide as a team. My kids' preferences for pants have changed back and forth over the years and we were lucky to be with teams that allowed for player preference.
The long style pants with piping seem to be the most popular style year after year. They come either with the gathered elastic bottoms (shown left) or open bottom (shown right). One of my kids always wanted one and one wanted the other. The gathered style can be pushed up and worn like knickers.
I've found that the best youth baseball pants are Mizuno brand because the fabric is thicker and the knees have a much better reinforcement than other brands.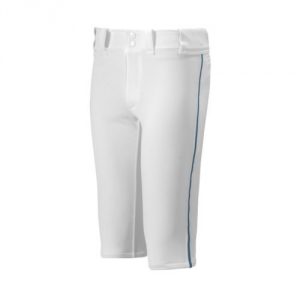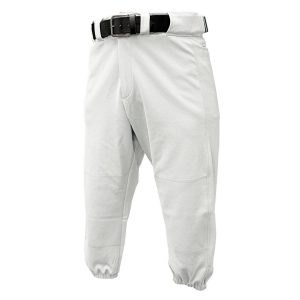 Then there is the knickers style pants that can be worn fitted (shown left) or baggy (shown right). A lot of kids like these because they can be worn with stirrups that look really cool. These give your team an awesome throwback style.
Stirrups can be worn with this style, and can be ordered in a solid color, stripes, or with some kind of design like camouflage. Stirrups give a uniform an added flair that can set your team apart and give them a really nice look.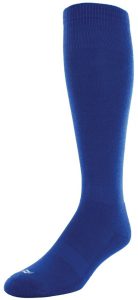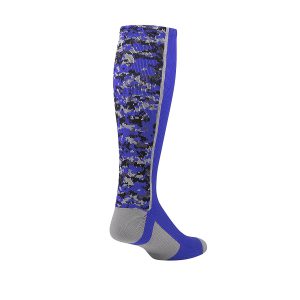 There are also plain socks and socks that look like stirrups that can be ordered in several different colors. These are nice because you then only need one pair as opposed to wearing the sanitary socks under the stirrups.
Stirrups can be ordered in a variety of styles including plain, striped, and even patterns such as camo style.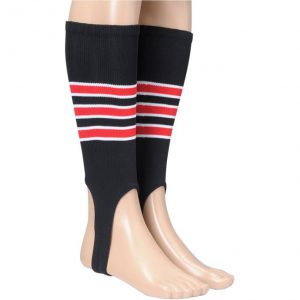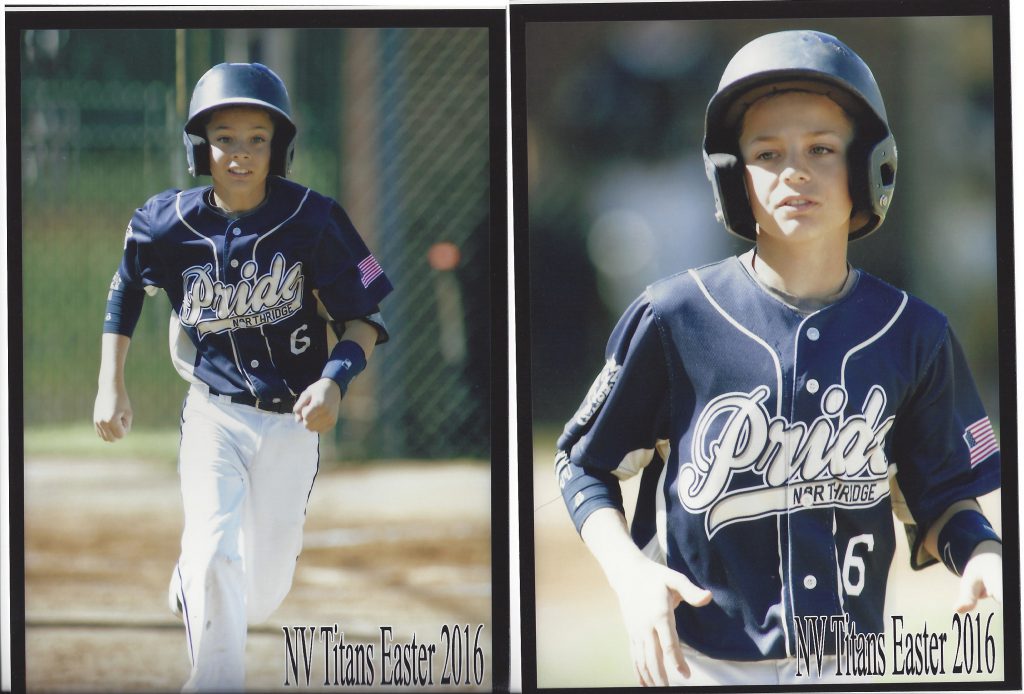 The most important piece is the jersey. There are several options for jerseys available now and they can be ordered in a multitude of colors and a few different fabrics. This is the jersey that our team settled on this last season.
These were very high-quality button-down jerseys with our team name, player names, and numbers printed on them using sublimation, which prints the images and text onto the fabric. Some uniform companies also use tackle twill which they sew onto the jerseys.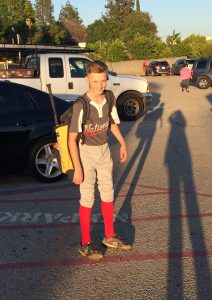 Another style of jersey is this type with just a couple of buttons. These are dri-fit material and look really good. The kids really like the dri-fit style because they are cooler, and are especially good if you live in a very hot climate.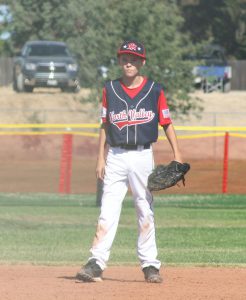 Another option is to get a vest style jersey that can be worn over a dri-fit. That way when the vest is taken off, you instantly have another uniform.
There are some website which let you make a mockup of a custom a jersey so you can see what it will look like and can be very useful when picking out styles and combined colors. It's a great tool for being able to play with different layouts and patterns, as well.
We also had dri-fit style jerseys and striped pants which looked very nice and allowed the kids to either wear plain socks or stirrups, so we were able to vary their uniforms. We ordered the jerseys in three different base colors: Vegas gold, navy, and gray, and were able to easily have different uniform looks by changing colors and also by working in plain white or piped pants. Custom youth baseball uniforms are usually ordered locally from printers that specialize in team apparel, and will make custom baseball jerseys to your specifications.
We did the same thing with our caps as far as getting them from a local company. When you're ordering in bulk, you can get a much better deal on the embroidery service for getting your logo on the caps. Look around your local area for where to get custom team baseball hats.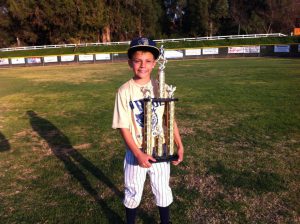 Our team had three or four different hat logo styles over the years and we also used different types of hats. Our kids voted unanimously to have the flat-bill style and we always measured them and got them fitted hats.
We would have one with a "P" for Pride and the other would be our lion logo. In addition, we also got a trucker style hat with a meshed back and fabric front and those were two-color.
We also took orders from all of the parents for caps, dri-fit jerseys, and sweatshirts which brings down the total cost even more.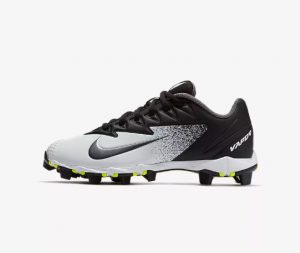 As far as cleats go, for our team these were always something that the players got on their own and picked out the style and color that they wanted. For a really consistent look, a team could have everyone get matching cleats as well.  Nike has some really great cleats and their prices are very good. They also offer free shipping.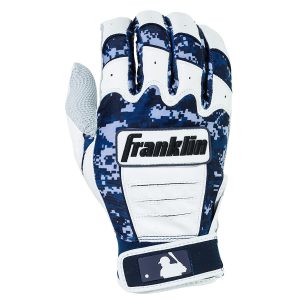 Like cleats, usually batting gloves are bought by the players directly by preference, but could be another item used to make the team look very matched.
My son had gloves and only used them as a prop to hang out of his back pocket because he didn't like wearing them!
If your team's parents don't really want to spend a lot of money, you can still have a really nice uniform by using an inexpensive dri-fit style jersey with a cool logo printed on it. Caps can be ordered with snap-backs, and you could buy all of the pants in one order which could get you a bulk price and save in shipping costs. Socks and belts are inexpensive pieces and you can get inexpensive batting gloves as well.
Share This: