Product of the Month - August 2018
The next in my series of featured products that I think are useful, fun, practical, or just things that sports parents will like. 
Compatible with Ryobi 18 Volt One+ batteries.
Fits on a 5-gallon bucket (sold separately).
Dual Purpose Design for Sitting on a bucket or on a flat surface with garden hose.
Works with 18-volt lithium-ion battery for up to 2.5 hours of run time, and up to 7 hours of run time with 4.0 battery and fan on low.
NEW & Improved Feature's for 2016: Adjustable fan speeds and misting control. New quiet performance motor. Arctic Cove introduces the Arctic Cove 18-Volt Bucket Top Misting Fan. This is a cordless/portable misting fan powered by an 18-volt Lithium-Ion Battery compatible with 18-Volt ONE+ Batteries. Designed to fit on most 5 gal. buckets. Garden hose adapter for use without bucket. See below for more information on this product. Item designed for outdoor use. Usage of the item indoors is not recommended. Dual Purpose Foot Design for Sitting on a bucket or to use on a flat surface with garden hose works with an 18-volt lithium-ion battery for up 2.5 hours of run time and to 7 hours of – runtime with 4.0 battery and fan on low (4.0 battery and charger are now INCLUDED) Compatible with Ryobi One+ batteries
Baseball games can get pretty hot. We sit in the stands and complain about how hot we are, but just imagine how hot our kids are in the dugout with polyester pants and shirts on. Not to mention that they just came in from being on the hot, dry field. It's only fair that they should be rewarded for entertaining us with one of these awesome outdoor portable misting fans to cool down the dugout.
Heck, if you have a travel team with 12 players, each parent could pitch in $12 bucks and get one. It's a small price to pay for the comfort of those hard-working kids, and they'll love it!
But back to the comfort of the parents. We feed them, drive them, pay for their games, and love them, so shouldn't we be comfortable too? I mean it's only fair.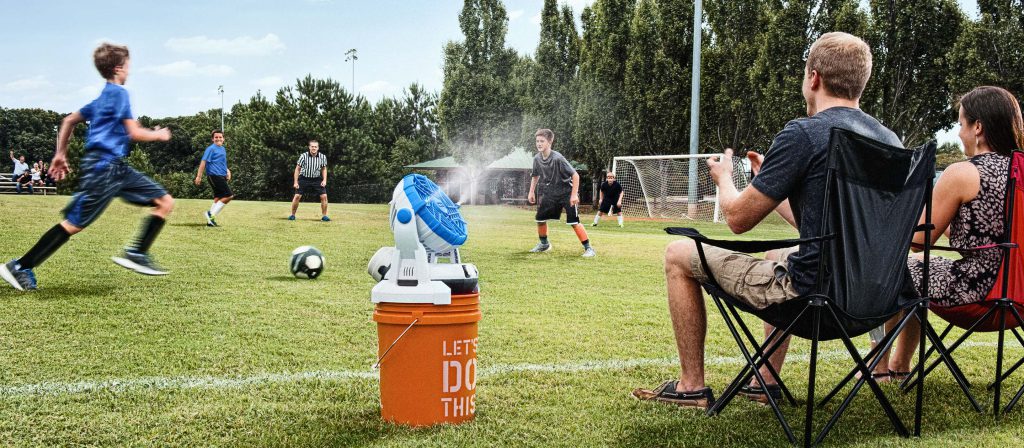 I just went to my son's game on Sunday and the temperature was 107 degrees. We all would have been so happy to sit near one of these things. Let's face it…in 107 degree weather, one of those hand fans is not gonna cut it, and there are still a lot of hot days left so order one today!
Share This: