I've put together a TeamSnap review for anyone who's thinking about using it for tracking their team information. TeamSnap is an app for your computer and for tablets and phones that tracks multiple items for sports teams such as game & practice schedules, player availability, payments, rosters, and also has a very good messaging system to either email or text to whole teams or just selected players. Our travel baseball team used TeamSnap, so I am now very familiar with the features.  
TeamSnap.com – Get Started Today With Our 100% Free Team Management Service!
Home
To begin with, the TeamSnap program is extremely easy to navigate. With TeamSnap you can track multiple teams, so once you log in and select the team you want to look at, you will be at the main screen pictured here:
You can set this page to display your team logo, team picture, team record, and some other user-defined items including local weather. You can also set a message from the manager to show up on the page.  There is an option there to turn on Facebook posting if you want to share to a team Facebook page. Across the top are several tabs which allow simple navigation through the program.
Roster
The second tab is the "Roster" tab. In the roster area you can enter all of the contact information necessary for each player, including phone numbers, email addresses, addresses, birthdates, etc. You can also set custom fields such as uniform sizes, hat sizes, or any other items you would like to track. At the bottom, you can add multiple family members and give them each access to the account. This comes in handy if a player has more than one household, or multiple people want to keep track of the account. You can also post player photos in the roster. From the roster area, each player can select whether to receive email notifications whenever something new is posted. This is very handy for being alerted to practice and schedule changes. The other nice thing about having multiple-person access is that the players can have their own access, and with many kids having their own phones and tablets, they can check on practice and games times, and also uniform choices.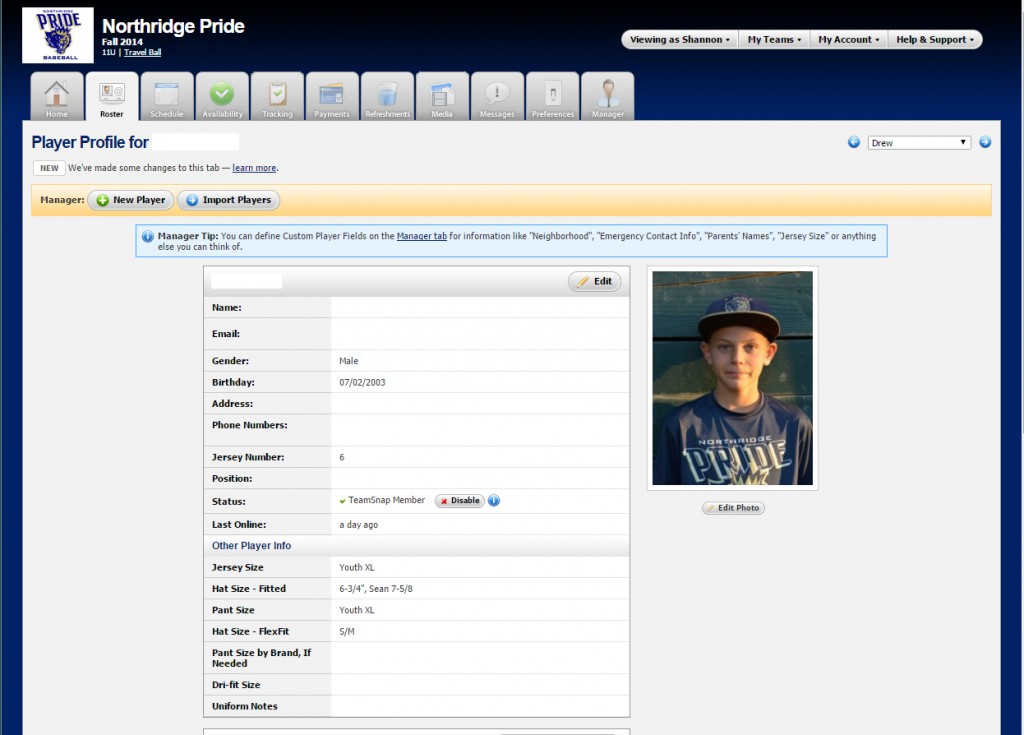 Schedule
The next tab is the schedule tab. This tab brings up the schedule of games, practices, and other events that are put into your calendar. Within the Schedule tab you can click on an individual event and view all of the details like date, time, location, what uniform is required, a list of available players, and who is scheduled to bring refreshments (if activated). The resulting score can be entered after the game as well. You can even enter a location link from an online map.  It can be viewed in either list view or calendar view (pictured here):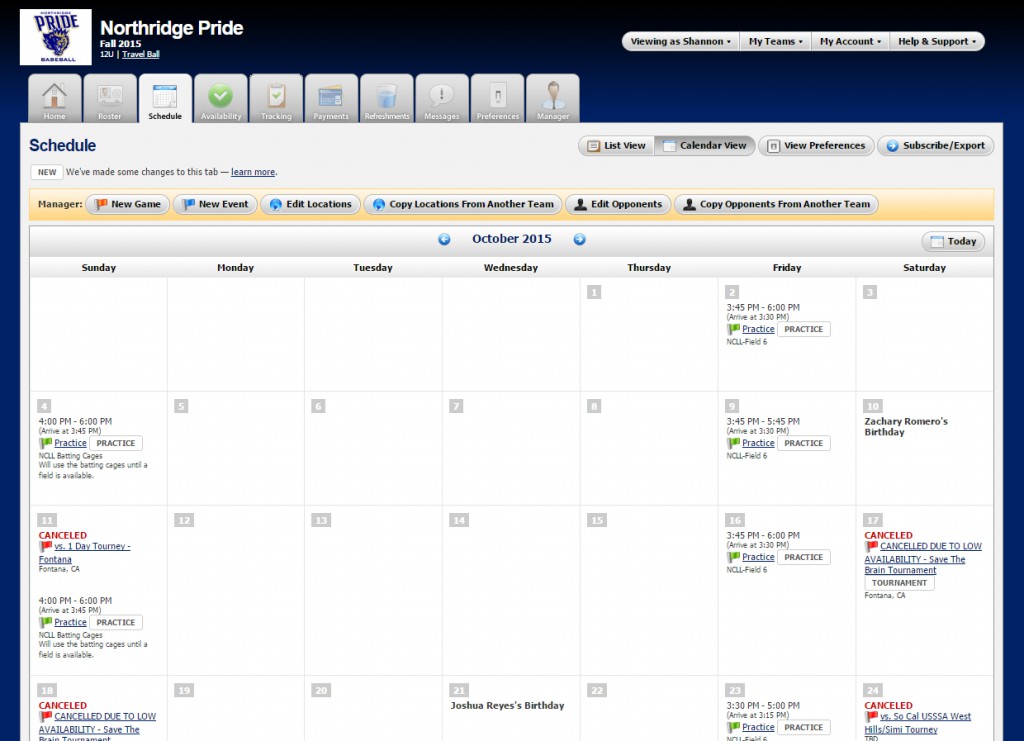 This is a really great feature for being able to see at a glance what your team has coming up for the next month. List view lets you view your upcoming event in a list format and the site manager can edit events directly from either of these screens.  You can also set both screens to either "View" or "Hide" past events.  There is even a feature to export the calendar information to iCal or Outlook. This is an example of the List View:
Availability
The next tab is my favorite feature as a co-team parent, and it's the "Availability" tab. This page allows the players and parents to enter their availability for each event with a check mark for either "Yes", "No", or "Maybe" and there is a place to enter a note. This comes in very handy if a player can play only at a certain time and that can be entered so that the coaches or team parents can track it. It's unbelievable how many emails, phone calls, and texts this feature saves. You can set this screen to be visible by everyone, or only visible to the player entering their availability, and you can also set it so that availability can not be edited within a certain time before the start of a game, say 24 hours. Here is a sample: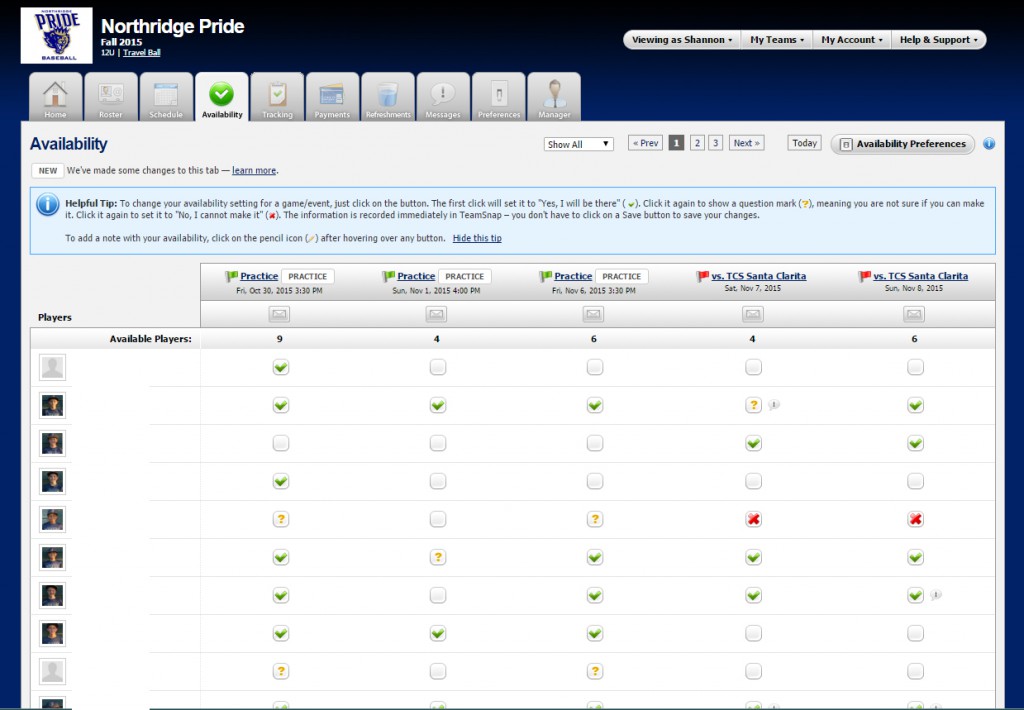 Tracking
The next tab is for "Tracking" things like who needs to turn in a form, or who has field cleanup duty. Our team hasn't used this feature yet, but it works just like the availability screen in that you enter a specific task such as "Turn in medical release form", and then there is a list of players and coaches, and you can put check marks next to the person who is supposed to do the task or has completed the task. This would be a really handy feature for teams going to big tournaments like Cooperstown, where they require multiple forms which need to be tracked.
Payments
Another favorite of mine, the "Payments" feature lets you enter a payment item such as a tournament fee for example, and then set a fee for each player. You can then track whether the player has paid the full fee, a portion of the fee, or if the fee is not applicable to a player who is not playing in this tournament or game. This makes it super easy to keep track of the payments for anything from tournaments to team fees and supply expenses. You can also enter a note into the payment item for each player if necessary. If you are using the TeamSnap mobile app, this awesome feature allows you to track payments on-the-go as people hand you money.
Refreshments
If your team does refreshments or "snacks", this feature allows you to track who is responsible for bringing them. The screen brings up a list of events and then shows "Assign Refreshment" next to the event with a drop-down for all of the players, coaches, and team parents. Once you select the person, you can type in what they are bringing, and you can assign multiple people items for each event. This is a sample screen: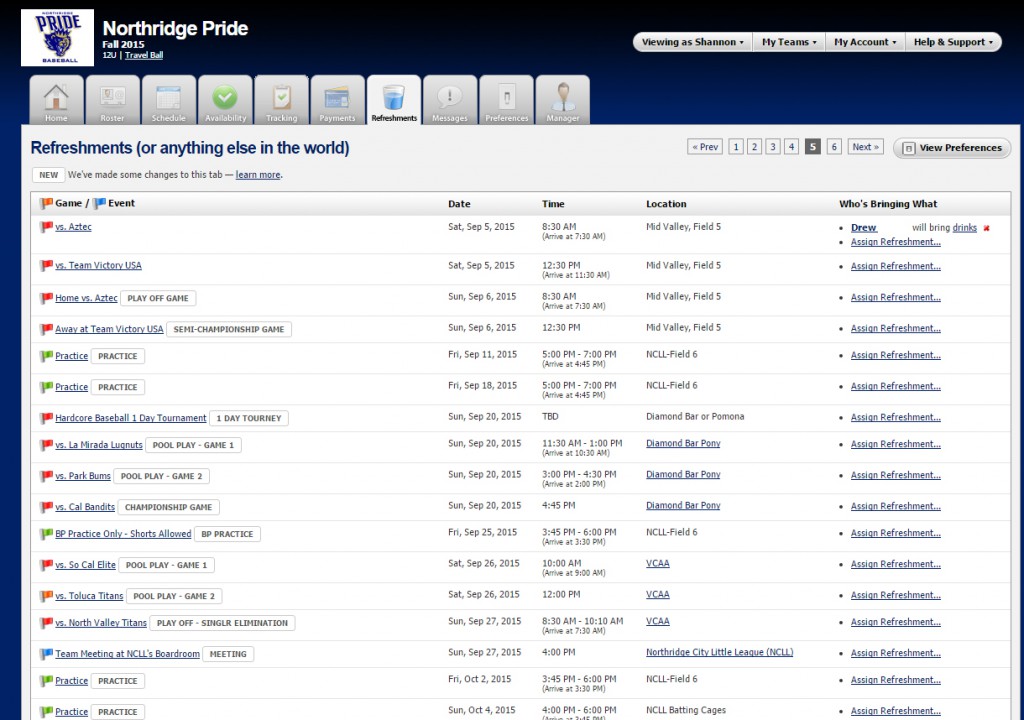 Media
The media screen allows users to upload photos, videos, and files to TeamSnap and create multiple folders to save them in. This is great for storing and sharing photos from tournaments, videos of games, and you can also upload important documents. The folders can be set to "Private" for viewing only by TeamSnap managers. There is a comment area on both Photos and Videos for people to enter text. All of these can be easily downloaded by clicking on the photo, video, or file itself.
Messages
Another awesome feature is "Messages". From the Messages tab you can enter posts, emails, and text alerts easily by selecting "All" players and managers, or by individually selecting players and managers. This makes it extremely easy to send out email alerts with a few simple clicks. You can also post things like links to websites, blog posts, news stories, etc. in the posts area. The text alerts feature is also a really great way to get quick messages out to people to the phone numbers they have posted in their roster information. For example, if a game is rained out and the coach wants to alert everyone before they drive to the game, they may not see it on email, but a quick text to the whole team and it's done!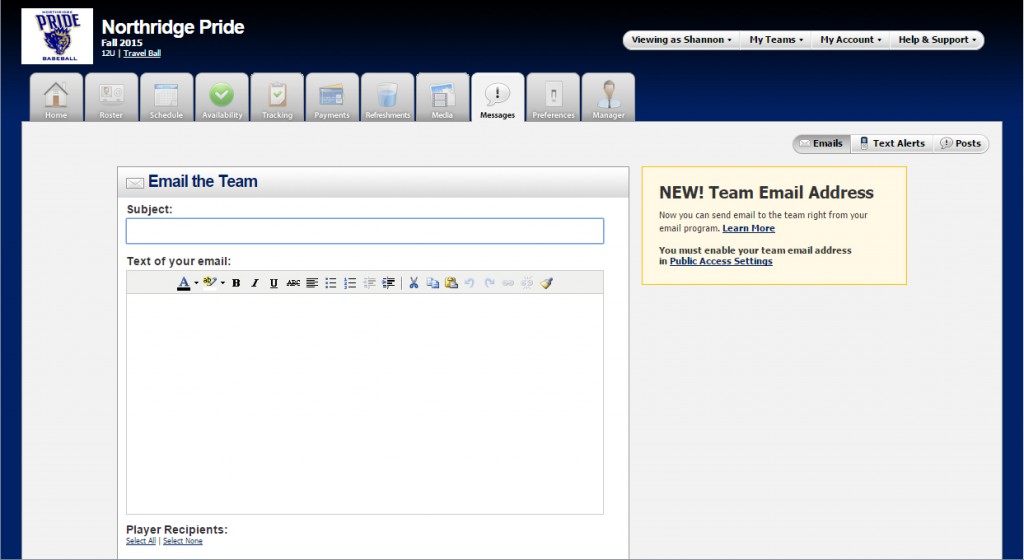 Preferences
From the preferences tab, players can set whether to receive an email reminder before each game or event, and whether to receive mobile notifications. Managers can set whether to be notified by email the availability of players.
Manager
The last tab is for Manager settings, which allows you to set several preferences for what is tracked and for what tabs and features are available for the players to see. This is also where you set up your team info such as division, website URL, team logo, team photo, time zone, custom fields, and other items.
Overall, I would say that TeamSnap is extremely user-friendly and takes very little time to set up. Having multiple-user access is a great feature so that if players live in two households, both sets of parents can easily have their own access. The email and text alerts are super easy to use and are a huge time-saver. I sometimes have people asking me, "Is TeamSnap Free?" There is a free version if you just want to use it for scheduling, but some of my favorite features are in the basic $10.00 per month version like player availability and payment tracking. There are many little extra features like not making player payment information public, and enabling access to the team to the public.
A newer field that has recently been added is for team email addresses. In addition, having the free mobile app is a huge bonus, because you can take almost all of these features on the road. It's so easy to check the schedule, check and update availability, enter payments, send messages….and the list goes on and on. At this point, I don't think our team could go without it. Our team uses the Premium plan  and it has every feature that the Ultra plan has except being able to add multiple team sponsor logos and links, which we don't use anyway. Here is a chart showing the plans:

TeamSnap.com – The Smartest, easiest way to manage your team or group!

Share This: