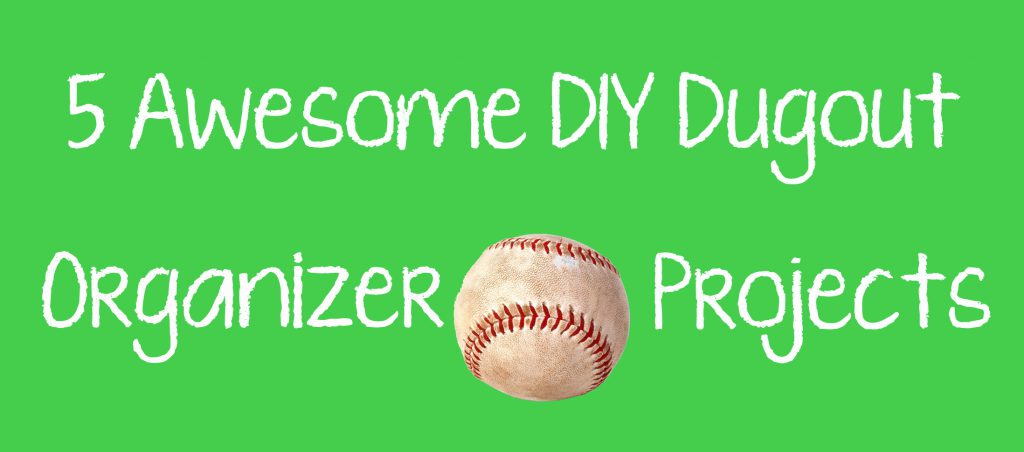 I love doing little projects that make my life and my coaches' and team moms' lives easier. I've put together five easy DIY dugout organizer projects that you will love.
This one is my absolute favorite projects. All you need is a hanging pocket chart which comes with write on/wipe away cards for the names. You can decorate it with baseball stickers, colored paper, or photos. This awesome lineup board is reusable for every season, and is easy for the littlest players to read.
DIY PVC Dugout Hat Hanger
Hats always get really dirty in the dugout because they get thrown on the floor and stepped on. Make two of these PVC hat hangers to put in the dugout for the kids to hang their hats on.
Get an 8 foot, 3/4″ PVC pipe and cut two pieces, three feet long each (or whatever length you would like). Mark off six equal sections wide enough for the hats. Then get six cup hooks, drill holes, and screw the cup hooks into the bottom of the pipe. Take two more cup hooks and screw them into the back for hanging the pipe on the fence. You can make name tags to hang over the hooks if you'd like, as well. These cup hooks are available in a pack online or at your local hardware store.
DIY Dugout Helmet Rack
It's nice for the players to be able to easily find their helmets when they're up to bat. Get two hanging closet organizers and hang them in the dugout for the players' helmets. I like using a darker colored organizer because these will get dirty. This is a great idea because they are collapsible and easy to transport. You can label the cubbies with the players' names if you like.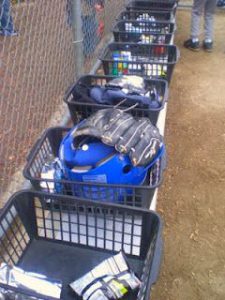 Stacking Dugout Bins
This is another idea to keep the dugout super clean and organized. Get some bins or small laundry baskets from the dollar store for the players to put their equipment in. They can then be placed under the bench so they are out of the way and the players can sit down. You can also make some glossy labels with the player's names on them. After the game, these are easily stackable to take home.
DIY Water Bottle Carry Caddy
Another way to keep water bottles from laying everywhere is to take a couple of these Rubbermaid carry caddies and make some inexpensive custom personalized water bottles for the players. You can also use Gatorade squeeze bottles and write their names on them. The great thing about doing this is that you are saving on water and bottle recycling because they can be refilled over and over again.
I hope you like these ideas and welcome you to send me your own ideas for any types of DIY baseball projects.
Share This: