If your kids are just starting out in baseball or softball, chances are that you don't know whether they will like it and if it's something they will ultimately stick with. Given that, it's safe to assume that you don't want to invest a lot of money yet on expensive baseball equipment. That's where Ebay comes in. I've bought and sold several items on Ebay and I've saved a ton of money and gotten some really good, high-quality equipment including catcher's gear, gloves, and bats.
You really need to do your due diligence to make sure you are getting the rights sizes of things, but I have found Ebay sellers to be very reliable with their descriptions and photos and I've always had really good luck getting the exact items that were stated in the listings. Ebay sellers do not want to get bad reviews or lose their selling privileges, so it's very important that they are honest about their advertisements. In most cases, you will have buyer protection through PayPal as well, so if an item is not what the seller has advertised, you can get a refund.
On the flip side, I have been able to sell several items that were in really good condition and make some of my investments back. It's extremely easy to do, and it's great to be able to get rid of items that you would otherwise just give away or throw out.
This is an example of a set of catchers gear that I sold: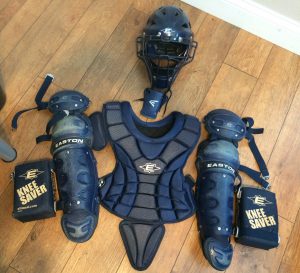 It was in great condition, only having scuff marks on the plastic parts, but other than that, all of the pieces were there. We had added knee savers to the set and I included them in the total package. All I did was clean it really well and take a few pictures and I ended up getting more than half of what I paid for it new, which was great. I've also sold a couple of gloves and a bat. You could even sell gently used cleats, baseball pants, and jerseys.
Share This: