Repainting an old dresser is the ultimate way to transform a kid's room into a fantasy baseball bedroom. These projects range from super easy to more suited for handy people. Check them out!
First, Second, Third, Home Dresser
I love this and it looks SO easy.  Take any old dresser and paint it dark gray, navy, or black, and stencil on the base names. Voila! You have a cool baseball dresser where you can put your trophies, home run balls, photos, and other baseball stuff.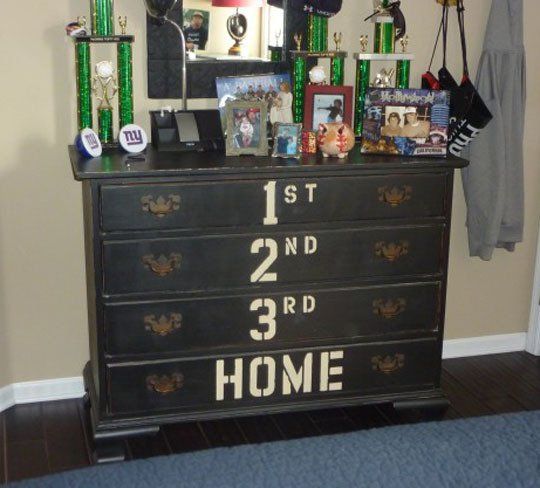 Bat and Ball Handle Dresser
This might be a little harder because you have to attach the bats to the drawers, but still doable my most semi-handy people. If you can find this style of dresser at a thrift store or yard sale, I think this is an awesome dresser. I love the idea of using round baseball knobs and baseball feet.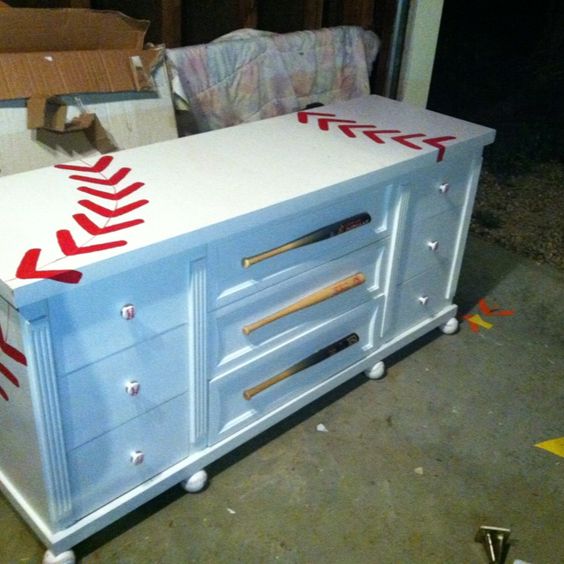 Team Dresser
You could seriously take any old dresser, paint it your team color, get some stencils and paint on the name of your stadium, players, and other stuff. This look super easy!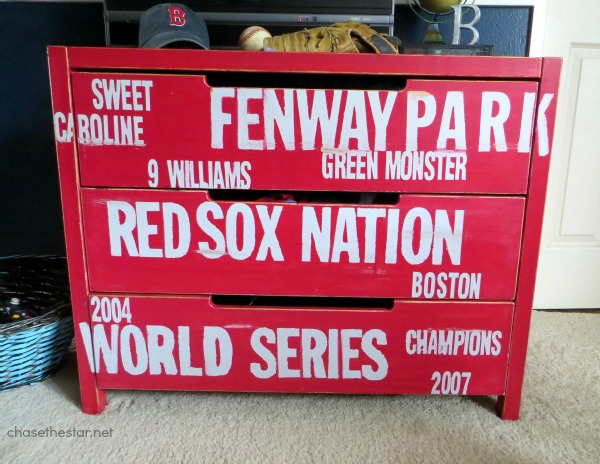 Baseball Diamond Dresser
You might have to be a little better painter for this one, but some of that blue tape and you could make this. And if you're a baseball parent, I'm sure you have some baseballs lying around for the handles. If you want some help with this project you can click here to see how it was done.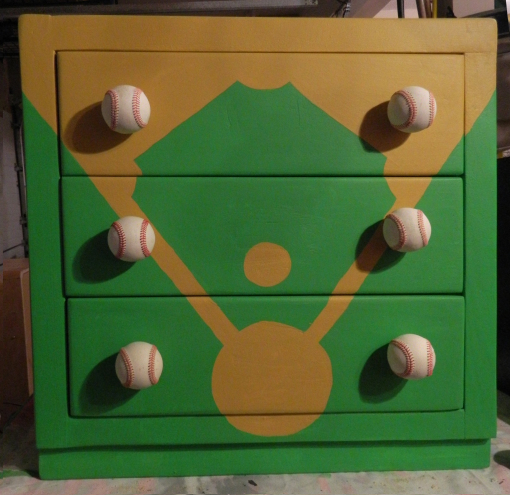 Baseball Card Dresser
There had to be some use for all of those non-valuable baseball cards. I found it! Just use decoupage glue on the tops and bottoms of the cards and attach them to the drawers, and then finish off with some sealer to create this awesome baseball card dresser. There is plenty of information on line for how to do it, like this tutorial.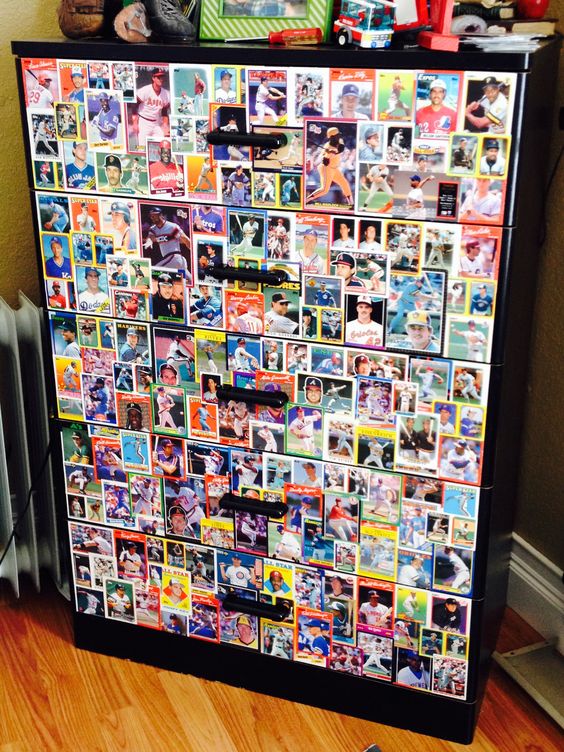 Ketchup and Mustard Baseball Dresser
This one is a fan favorite and as of this date it has been saved over 3,200 times just from my Pinterest page alone. I call it the" ketchup and mustard baseball dresser" because those two items on top kinda make the design. As you can see, the painted-on threads don't have to be perfect and any dresser could be used for this project.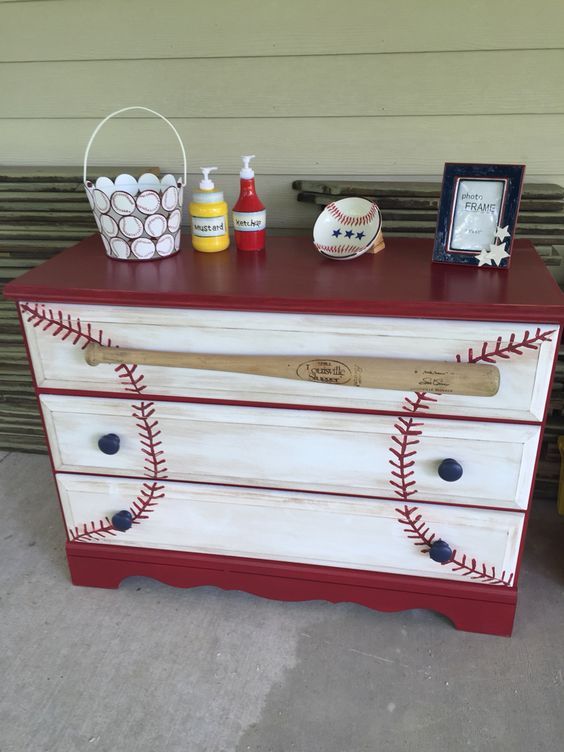 Baseball Bat Dresser
The hardest part of this baseball dresser project would be getting the bats straight, but other than that I think anyone could do this one. This was made from an Ikea dresser and the creative person put bats and baseballs on the handles. The baseball photo collage makes this look truly awesome
Small Baseball Dresser
This one could probably be used as a nightstand but it looks like another super easy project. Hand painted baseball knobs make this dresser look extra cute.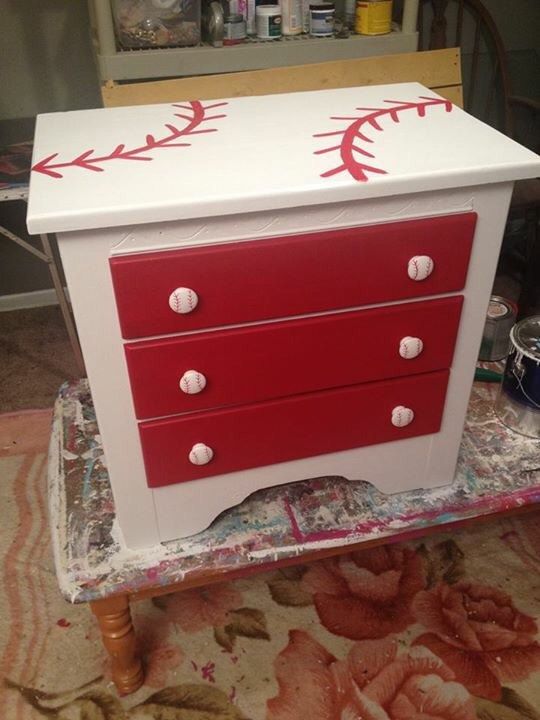 Sleek Bat and Ball Dresser
This one really amazes me. The transformation from old to new is so impressive and you would never think this started as a totally out-of-fashion dresser. Love it! There are even instructions for making it on Funcycled.com.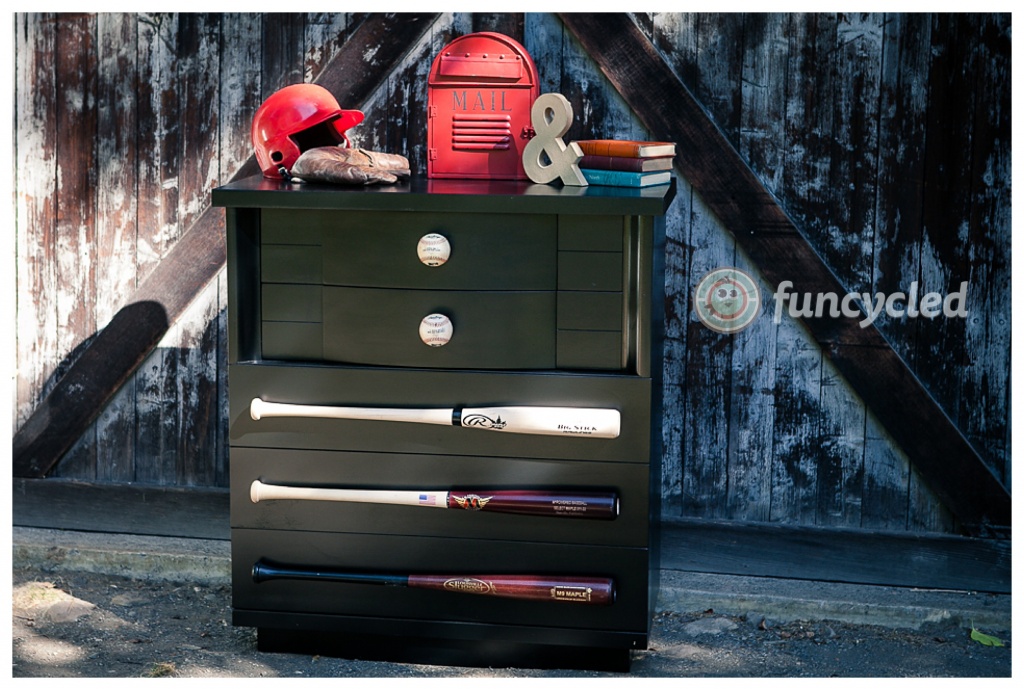 Simple Baseball Dresser with Threads
If you don't have a lot of time or energy to spend on this project, you could just take any white dresser and paint threads on it. Then you could easily top it off with some baseball knobs if your dresser has the round kind, or even get creative with some large wooden knobs.
You might also enjoy my page Baseball Themed Bedroom Ideas which has tons of great ideas.
Share This: